Faculty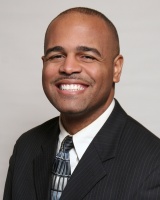 Dr. Travell Travis Esq.
Assistant Professor

, Entrepreneurship, Economics, and Marketing
Location:
Ethel Buckman Hall
120
Phone:
757-727-5865
E-mail:
travell.travis@hamptonu.edu
I. Current Rank
Assistant to the Dean
Assistant Professor of Entrepreneurship and Business Law - Undergraduate
II. Department
Center for Entrepreneurial Studies and Economics
III. Education
Doctoral Degree:
Doctor of Jurisprudence, 2003, Law, Howard University School of Law
Baccalaureate Degree:
Bachelor of Arts, 2000, African American Studies History, Religious Studies, University of Virginia Charlottesville, Virginia
Certifications:
Member, Virginia State Bar, 2005
Member, District of Columbia Bar, 2008
IV. Courses Taught:
Hampton University, Undergraduate:
ETR 210 Introduction to Entrepreneurship
ETR 315 Financing New Business Ventures
ETR 350 Start-ups, Buyouts, and Franchises
ETR 395 Creativity,Innovation and Product Development
ETR 410 Legal Issues in Entrepreneurship
ETR 420 Special Topics in Entrepreneurship
MGT 340 Business Communications
Hampton University, Graduate:
MBA 630 Legal Environment of Business
Hampton University, College of Virginia Beach:
MGTV 305 Business Law
ETRV 210 Introduction to Entrepreneurship
V. Intellectual Contributions
Peer Reviews Journal Articles
Credle, Sid H., P. Michael McClain, and Torrino Travell Travis. "The Elmo Bank: A Case Study of Merger Acquisition Target Firm Valuation Methods." Working Paper (Pilot Test Fall 2004 and Spring 2005, MBA 313 Financial Reporting and Analysis and Business Finance FIN 304 Summer 2005. Submitted for publication August 2005. Accepted for publication: The Journal of Cases in Finance: January 2007.
VI. Professional Organizations
Professional Memberships
American Bar Association
Peninsula Bar Association
Apostolic Law Association
VII. Community Organizations
President, National Youth for Christ, Way of the Cross Church of Christ International, Inc. (2007-President); Second Vice President (2000-2007).
Pastor, City of Refuge Way of the Cross Church, Richmond, VA (2009 –Present).
Attorney at Law, Law Office of Travell Travis, P.L.C. Hampton,VA, (2005- Present)
President, Ambassadors for Christ Ministries, Inc., Hampton, VA, (2007-Present)