Faculty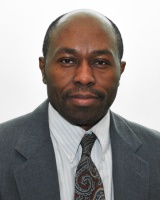 Mr. Vahwere Kavota
Assistant Professor & Director

, Entrepreneurship, Economics, and Marketing
Location:
Ethel Buckman Hall
211D
Phone:
757-637-2149
E-mail:
vahwere.kavota@hamptonu.edu
I. Current Rank
Instructor - Undergraduate
II. Department
Marketing
III. Education
Doctoral Degree(in process):
Enrolled in the Doctoral Program, Business Administration, 2008, University of Phoenix
Masters Degree:
Master of Business Administration (MBA), 1994, Business Administration, Hampton University
Baccalaureate Degree:
Bachelor of Science, 1985, University of Zaire (DROC), Commerce and Trade, Minor: Finance
Certifications:
License in French from the Virginia Department of Education
IV. Courses Taught:
Hampton University, Undergraduate
MKT 305 Principles of Marketing
MKT 311 Consumer Behavior
MKT 328 Sales Management
MKT 360 Internship/Coop.
MKT 411 International Marketing
MKT 495 Marketing Research
V. Intellectual Contributions
Publication In Refereed Journals
Faculty and Administrators' Perception of Students' Evaluation of Faculty in Higher Education Business Schools. Published in the Journal of College Teaching and Learning of Higher Education vol. 3, number 8, August 2006.
VI. Professional Organizations
Knights of Columbus (2003 – present)
Hampton University Alumni Association (1994 – present)